Injury Prevention Advice
Based on statistics, for every 1000 persons on the slope each day, only 2-4 will suffer from injuries that need medical intervention. Though the risk is very low, sustaining an injury can still prematurely end your holiday and cost you a lot of money. Regarding snow sports-related death rates, statistics show that there's only one death per 1.5 million skier visits. In fact, figures from America reveal that the incidents of drowning in a tub each year is ten-fold greater than death on the slopes.
Some people, however, may acquire minor injuries that can interfere with their skiing holiday. Here are a few tips that might come in handy on the slopes.
Tips For Everyone
Abide by the F.I.S. code on piste safety.
Resist the temptation to omit professional instruction.
Check your own equipment regularly or rent from a reputable company.
Do not bum tools off other people.
Perform proper warm up and cool down.
Rest if you must.
Do not attempt speeds/slopes beyond your skill level.
Dress appropriately.
Wear a protective helmet.
Do not go off-track alone.
Beware of tree wells.
Do not ski or board towards a closed piste.
Avalanche Warning
A small number of snowboarders and skiers die from avalanches each year. Though the risk is greatest in the backcountry, slides may occur on or close to ski areas. Avalanches can, therefore, pose grave dangers to those foolish enough to disregard the warnings.
Tips For Alpine Skiers
Common Injuries: shoulder injuries and thumb/knee sprains.
A) Maintain your boot-binding interface in excellent condition.

Have your bindings tuned up at least once yearly.
Avoid walking a lot while the wearing the ski boots.
If you're renting equipment, opt for a reputable facility.
Do not borrow skis from someone else unless the bindings are properly readjusted.
Do a daily self-test on your binding.
B) Decrease the risk of severe knee sprain.
Keep arms forwards with hands over the skis (if possible) during a fall.
Do not completely straighten legs in a fall try to maintain bent knees.
Upon landing, do not immediately get up unless you've ceased moving.
C) Do not ski with hands placed in the ski pole straps (except in deep powder snow).
D) Be responsible and avoid colliding with or injuring people below you.
Tips For Snowboarders
Common Injuries: head, shoulder and wrist fractures.
A) Wear wrist guards to decrease risk of injury especially if you're a novice.
B) Soft boots are strongly suggested for beginners.
C) Always fasten the board to your lead foot using a security leash.
E) Detach rear foot from the bindings while ascending on lifts.
F) Beware of "snowboarder's ankle" which can lead to arthritis if left untreated.
G) If you must jump, always do it with a "spotter".
H) Look out for tree wells.
Tips For Ski Boarders
Common Injuries: knee sprains, and lower leg/ankle fractures.
A) If you're about to fall, do not resist it. Just yield to it before injury occurs.
B) Be cautious of easily fitting an average alpine release binding to your ski board.
C) Kids below 1.5 meters tall should not use standard length ski boards.
Tips For Telemark and Nordic Skiers
Common Injuries: knee sprains (Telemark), ankle injuries and hip contusions (Nordic).
A) Try to relax if you're still a novice. Keep in mind that all types of XC skiing are tougher than other forms.
B) Wearing plastic boots allows for easier control of XC skis.
C) If you fit your skis with release bindings, ensure that they will really release.
Recommended Products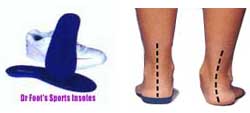 Best Seller- Dr Foot's Sport Insoles (pair)
Treat the underlying cause of Foot and Leg Pain
PR Freeze Spray
Instant relief
Immediate relief for Running Strains and Aches

Provides warmth, compression and support to injured thigh & hamstring areas.
Compression and Support to the Injured Hamstring

Warm up and warm down creams that relieve muscular fatigue and supply instant healing.