Knee Ligament Injury and Skiing
What is a Knee Ligament Injury?
Skiing is a dangerous sport indeed. Skiers face a high risk to injuries that usually affect the skeletal system. Knee ligament ruptures account to about one-third of the total skiing injuries recorded. This is because it is almost a common occurrence to twist your knee and sprain your ligaments while in an interesting ski ride. Both the MCL (Medial Collateral Ligament) and the ACL (Anterior Cruciate Ligament) are common targets for this skiing injury. While an MCL sprain may be mild and common, an ACL rupture proves to be serious. Lately, ACL injuries have risen in statistics. Experts say this is mainly due to the fact that diagnostic processes have improved through the years. A percentage of the medical team also counts the improvement in ski boots and bindings as suspects for the rise. Since ski boots are worked out to protect the ankle and shin considerably, the force is dissipated mostly to the knee joints. In case of the bindings, they increase knee injuries by way of protecting the shins. Their release mechanisms are usually not fast enough to protect the knee against sudden twists and in the process, injuries.
What can you do to prevent Knee Ligament Injuries?
A surefire way to free yourself from worry for Knee Ligament injuries is by wearing reliable knee braces. Knee braces help lessen the risk of knee injuries because they provide enough resistance against sudden twists. In case of weak knees that have suffered from previous injuries, they offer added support like no other. When combined with rear release ski boots and Multi-mode release bindings, knee braces can significantly reduce a skiers risk of both MCL and ACL injuries.
Do not overuse your ski boots to be sure that they are in perfect fit with the bindings. Walking on them can sometimes create interference on the release mechanism. Always have your bindings checked as well. They must undergo necessary adjustments every other time to ensure their effectiveness without exerting extra force on the knees ligaments. Check your bindings before use. Measure their effectiveness by the feel of the release.
What should you do if you suffer a Knee Ligament Injury?
Knee Ligament injuries may be resolved with proper treatments given at the earliest possible time. Injuries in their acute stage are obviously more difficult to correct. It is always advisable to have your knee checked by an orthopedic doctor immediately. Chronic swelling around the knee joint makes it impossible for exact diagnosis to be achieved. A Knee support is the most common treatment for Knee Ligament injuries. It helps to ease the pain and resolve the swelling.
Recommended Product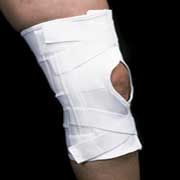 Click here to view the Wraparound Elastic Knee Support provides excellent support for MCL and ACL Ligaments. Ideal for skiers or snow boarders who have suffered a knee injury