Introduction to Skiing Injuries
Alpine snow sports continue to be the most well liked winter leisure it is guesstimated that, at present, there are over 70 million snowboarders and 200 million skiers in the whole world. In United Kingdom, over £500m is expended every year on snow sports. The past 15 years have also produced new-fangled sports such as ski boarding and snowboarding, which have helped out in expanding the appeal of snow sports particularly among the youth.
Skiers and snowboarders suffer from particular injuries. Skiers tend to suffer from knee injuries such as ACL tears and minuscus tears. As skiers lose balance and the skis twist they put a lot of pressure on the ACL ligament in the knee. Sometimes snowboarders can also suffer from a ACL injury caused by doing jumps and landing awarkwardly. However snowbaorders tend to get more shoulders injuries such as a dislocated shoulder, rotator cuff injury and shoulder separation.
Alpine skiing has through a significant rebirth with the unveiling of carving skis in the middle of 1990's. Now skiers have the option to pick from an extensive range of ski designs, which were all essentially based on the innovative carving system. Recent developments remain apace in all snow sports such as innovations in soft ski boots, electronic fibres in skis, and integrated binding systems.
May your forthcoming snowboarding or ski trips be safe and unforgettable, and best wishes to you for the year 2012.
Recommended Products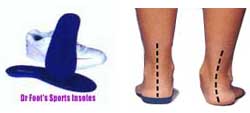 Best Seller- Dr Foot's Sport Insoles (pair)
Treat the underlying cause of Foot and Leg Pain
PR Freeze Spray
Instant relief
Immediate relief for Running Strains and Aches

Provides warmth, compression and support to injured thigh & hamstring areas.
Compression and Support to the Injured Hamstring

Warm up and warm down creams that relieve muscular fatigue and supply instant healing.