Skier's Thumb Injury
What is a Skier's Thumb Injury?
Skiing and snow boarding is a popular sport in many countries around the world. As with any sport, injuries and accidents are quite common, especially for novice players. The most popular skiing injury is called Skier's Thumb. It is an injury affecting the upper limb and accounts for about 10% of all ski-related afflictions.
The Skiers Thumb is usually acquired after a fall with the ski pole acting as a lever between the snow and the inside base of the thumb. The force applied on the thumb causes a damaged Ulnar collateral ligament, which is found on the thumb's base. In some cases, such incident only causes a sprain. In others, it can create a complete rupture.
A severe case of Skiers Thumb is determined through thumb swelling and bruising. An extreme pain is also felt by the patient right after the incident. Chronic swelling may appear if the thumb injury is not diagnosed properly and early.
An effective immediate treatment for Skiers Thumb includes compression with ice packages. If symptoms persist, physiotherapy and other hand therapies can be used to resolve the problem. The use of therapy balls, therapeutic putty, and strengthening devices may also be helpful so the hand regains mobility the soonest possible time which is around four to six weeks.
What can you do to prevent Skier's Thumb?
The best way to prevent a sprained thumb from happening is to put up all the safety measures at hand. It would be advisable for skiers not to put their hands inside the ski pole loop. Better yet, do not go into deep points where powder snow may attempt to take the ski poles. Wearing a Thumb Stabiliser to protect the Ulnar collateral ligament may also be helpful. It is a powerful protection against an injury that is not limiting in terms of movements and functions. The Mueller Thumb Stabiliser is one of the best products out there, which provides the ultimate support and protection every skier would need.
What should you do if you suffer a Skier's Thumb Injury?
An immediate application of ice packs in the affected part works best in treating an Ulnar collateral ligament damage. To help relieve inflammation and pain, NSAIDs or Non Steroidal Anti Inflammatory Drugs are usually prescribed. Hand therapies and exercises may be helpful to resolve the sprain. In about six weeks, a properly treated Skiers Thumb is free from any form of damage. The thumbs strength and mobility should be back to normal by then.
Recommended Product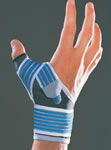 Click here to view the Thusane Thumb Strap